Behrouz Boochani, acclaimed writer and Manus Island detainee, visits CRS
CRS was honoured to host Behrouz Boochani for a morning tea while he was visiting our city for the November 2019 WORD Christchurch festival. Behrouz was accompanied by some friends and supporters, including WORD Christchurch Programme Director Rachael King.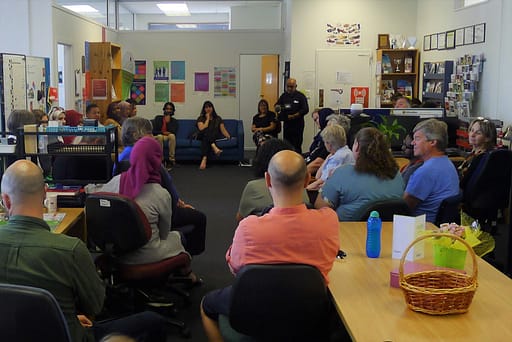 Behrouz is an Iranian-Kurdish filmmaker, writer and human rights defender. He is also a refugee; he fled Iran because the social and political content of his journalism had made him a target of government persecution. Behrouz succeeded in reaching Indonesia, but the boat carrying him and 60 others towards Australia was intercepted and the men were eventually detained in the Australian detention centre on Manus Island. Behrouz lived in the centre from 2013 until its closure in 2017, and remains unable to travel freely because he does not have the necessary documentation. He was, however, granted permission to travel from Manus Island to Christchurch, which made his visit especially remarkable.
Behrouz achieved fame with his autobiographical novel No Friend but the Mountains: Writing from Manus Prison, written via text messages. The novel has received international acclaim and has been awarded some of the most prestigious Australian literary awards – despite Behrouz not being allowed to enter Australia.
During his visit to CRS, Behrouz was introduced to the work of the organisation by General Manager Shirley Wright, and to the work of the New Zealand Red Cross Refugee Resettlement team by Jo Fasheun, Red Cross Pathways to Settlement Manager. Members of the CRS staff and Board, and Red Cross staff, introduced themselves and explained their roles. Behrouz responded by noting the good work done by these sorts of agencies, but also highlighted that because no one but a refugee can ever fully understand the refugee experience, it is critical to have former refugees working within support organisations. Everyone then shared some kai.
WORD Christchurch gifted CRS several tickets to Behrouz's sold-out public talk the following evening (a discussion with media personality John Campbell), which we would like to gratefully acknowledge. Behrouz's words during the event were extremely poignant and powerful as he spoke of both suffering and humanity, including an acknowledgement of the damage still being done to Manus Island by the Australian government's offshore processing policies. Behrouz received a standing ovation at the beginning and the end of the event.