CRS hosted its 2019 Annual General Meeting on 25 September at the Christchurch Netball Centre. The event was attended by representatives of other non-governmental organisations, government departments and funding agencies, as well as community members.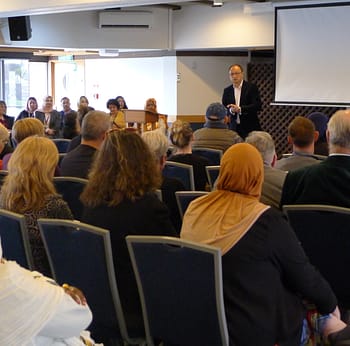 The meeting was opened by Sally Pitama of Ngāi Tahu, who sang a waiata and reflected on the interconnectivity of humankind and the importance of welcoming all newcomers to Aotearoa.
Sally's mihi whakatau was followed by a guest address by Meng Foon, the newly-appointed Race Relations Commissioner at the Human Rights Commission. Meng talked engagingly about a number of topics, including his upbringing as a son of Chinese parents in Gisborne, some of the work that he was involved in during his 18 years as Mayor of Gisborne, the passion he has for Te Reo and Māoritanga, as well as his initial learnings and future aspirations for his time as Race Relations Commissioner.
Martin Maguire, Chair of the CRS Board, then presented his report. He made it clear how difficult this year has been for CRS with the tragedy of 15 March, noting how well staff have stepped up to the challenge and how grateful CRS is for the support of sister and funding agencies.
Similar comments were made by General Manager Shirley Wright, who observed that 15 March challenged the very values of CRS. Her detailed report included commentary, statistics and client statements for each of the six CRS services. Staff members also shared some of their personal experiences and insights from the year and Omar Gomaa, Operations Support Coordinator, presented the Finance Report.
The reports are available in the 2018/2019 Annual Report.
CRS would like to express its appreciation to all who attended the meeting.
Operations Support Coordinator Omar Gomaa presents his report

Partnership Community Worker Tula Ram Chhetri shares some reflections from the year

Thanks to all the people who attended our AGM!