CRS hosted its 2020 Annual General Meeting at the Christchurch Netball Centre on Wednesday 30 September. The event was well attended by representatives of other non-governmental organisations, government departments and funding agencies, as well as community members.
The meeting was opened by Sally Pitama of Ngāi Tahu. Sally sang a waiata and in her kо̄rero reflected on the interconnectivity of humankind and the importance of welcoming all newcomers to Aotearoa.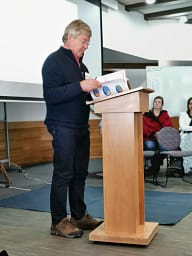 Martin Maguire, Chair of the CRS Board, then presented his report. He noted that CRS, the wider migrant and refugee sector – and indeed, New Zealand and the world – have faced a challenging year with COVID-19 and lockdowns. He mentioned how CRS staff have continued to work tirelessly and selflessly despite the challenges.
Similar comments were made by General Manager Shirley Wright, who observed that COVID-19 and the ongoing effects of the 15 March 2019 attacks were still being felt. Her detailed report included commentary, statistics and client statements for each of the six CRS services. Staff members also shared some of their personal experiences and insights from the year and Omar Gomaa, Operations Support Coordinator, presented the Finance Report.
CRS presented a beautiful replica of the Christchurch Chalice to Martin, who retires this year after many, many years service to CRS.
The reports are available in the 2019/20 Annual Report.
CRS would like to express its appreciation to all who attended the meeting.
CRS staff Melissa and Marita

Joseph presents a gift to Martin on behalf of CRS