Shirley Wright started working at CRS in February 1997, and has been the General Manager for the past 11 years.
Shirley trained as a primary school teacher, but left the teaching profession after becoming disillusioned with the way that children from a range of diverse cultures were treated in the education system of the early 1970s. She worked in various sectors over the intervening years, largely chosen to fit around her parenting role. Shirley's most memorable work over this time was with women's refuge and in the Ōtautahi Women's Labour Pool.
"My identity as a Social Worker is very important to me; it allows me to bring my personal and professional life into congruence, and live to the values of social justice, feminism and pacifism."
In her early 40s, Shirley decided she ought to formalise her knowledge, and completed a Postgraduate Diploma in Social Work at the University of Canterbury. In her first year of study, she undertook two work placements at Resettlement Family Support (as CRS was then called) and fell in love with the people and the agency, which was only two years old at that point. In her second year of study, Shirley did a placement in a specialist mental health service. With her degree completed, Shirley was offered a job at CRS as a Social Worker. Prior to moving into the Senior Social Worker role at CRS, she worked part time at this agency and at Family Mental Health Service. Eleven years ago, Shirley took on the role of General Manager at the agency.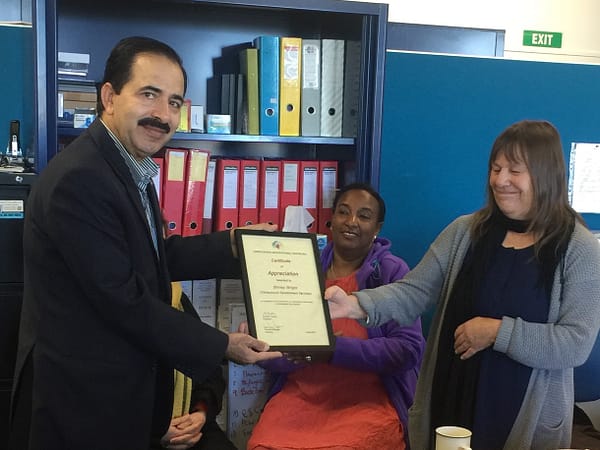 "I've just loved every minute working at CRS. It's such a privilege to work with people from diverse cultures and ways of seeing the world. I feel like I travel the world every day." This variety of perspectives mean that Shirley feels she is constantly challenged to confront the unconscious bias that we all have.
"Newcomers to New Zealand have the right to express their religion in their own way, express themselves in their own language, and celebrate and enjoy their cultures with freedom – whilst also making the most of what our bicultural society can offer."
Shirley also loves CRS because it is possible to see really visible, positive outcomes for clients. As she says, "Everyone wants to settle well and contribute to their new society, but people often need support to do so." She really values that CRS and other organisations working in this sector are able to lend this support, and that the workforce in Christchurch is skilled and willing to work collaboratively in order to help people and whānau to thrive. In supporting people to settle well into Christchurch, Shirley believes that CRS contributes to enhancing locals' perceptions around the benefits of diversity.
Shirley notes that another strength of CRS is its ability to act responsively to clients' needs, for example after the 2010-11 earthquakes when CRS supported Christchurch's Culturally and Linguistically Diverse communities, and after the 15 March 2019 Mosque attacks when CRS was able to reach out through its existing connections into the Muslim communities.
In part, Shirley is committed to her work because of the story of her own family's migration to New Zealand. Like many immigrants at the time, her great-great-grandparents migrated here in the 1880s from Britain on the Edwin Fox, in the hope of creating a better life for their whānau. They had hoped to find a better life; they were, however, not treated well. Her great-great-grandmother died six weeks after arriving in Christchurch after a long, stressful journey by ship from Britain. This left Shirley's great-great-grandfather to manage the care of his six children – one a baby. The family was forced to separate as there was no financial support available, with the exception of a very small amount from the Charitable Aid Board. Further, her great-great-grandmother was buried without the knowledge of her husband, such that he was not able to arrange appropriate burial customs. Shirley sees this story as an example of how new arrivals to New Zealand can be treated unjustly because their customs differ from those of the mainstream. With support from others, her great-great-grandfather was able to influence the law around burials in New Zealand – an inspirational example of the possibilities of social change and social justice.