Finding meaning through work
Zeinap Hussein fled the civil war in Somalia and eventually arrived in New Zealand, via Kenya and the Netherlands. She has many roles at CRS, including as a Bilingual Community Worker, a Partnership Community Worker, a Health Promotion Community Worker and a Health Information Provider.
It was not safe. It was a nightmare.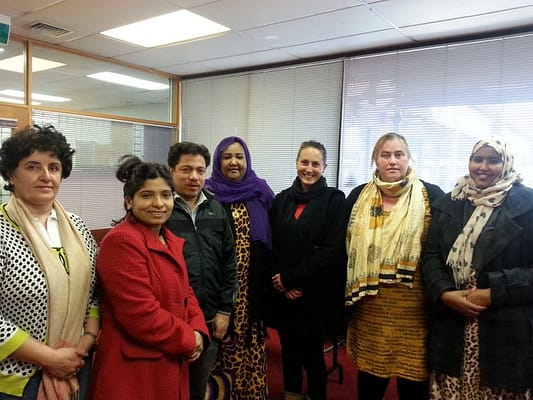 Life in Somalia was dangerous, with fighting and rape. When her brother was killed, Zeinap decided to leave Somalia for neighbouring Kenya, despite her mother wanting her to stay. Zeinap spent one-and-a-half years in Nairobi before her family joined her. Although they had escaped Somalia, things in Kenya were also incredibly difficult. The police were corrupt, asking people for money or locking people in cells until ransom money could be paid.
Zeinap was offered the chance to go to the Netherlands, where she stayed until she got Citizenship. She then moved to New Zealand to reunite with her family who had in the interim been resettled here. She describes the first two years in New Zealand as very hard, but then she got a job at Hagley Community College supporting Somali students and then moved to working at Avonside Girls' High School. She then started working at CRS.
That makes happy our people.
Zeinap thinks that CRS provides wraparound support for refugee-background people, with all the different services and staff. Most important in this regard are the Bilingual Community Workers who are able to understand the language and culture of refugee-background people, and understand and advocate for their issues. The CRS staff all work together to benefit their clients.
Zeinap and colleagues at CRS, 2017

Serving lunch at the CRS Under 5s Day, 2017