From Clay Huts to Brick Houses: Molding a Life in New Zealand
Christchurch Resettlement Services offers a wide range of services to the refugee and migrant background communities in Christchurch. But to run these services effectively requires the skills and expertise not just a dedicated team, but also a conscientious and forward thinking board. Today we'll introduce you to Wahida Zahedi. A board member who's had a relationship with CRS for almost 13 years.
Wahida is from Afghanistan. A country which for as long as she can remember, has been at war. Where education for women was not allowed & human rights were non-existent or simply not respected. A country very different from New Zealand. Wahida's story begins in Jaghori, Afghanistan. A district in the province of Ghazni, just under 6 hours drive from Afghanistan's capital, Kabul. Wahida is from an ethnic minority called Hazara. Hazaras have been persecuted throughout history. The dangers and difficulties of life in Afghanistan are well documented in the media. Not being able to attend high school (as a female), the next step in your life journey is that of a housewife. There were no such things as dreams or aspirations.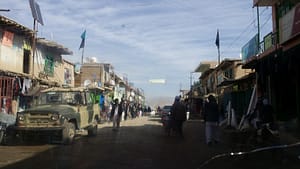 Long standing tensions between rival tribes made day to day life in Wahida's village unsafe. Not knowing if you'd make it to the end of the day was a fact of life. For Wahida, her parents and Brothers and Sisters, it was simply a matter of trying to stay alive.  There was no other choice for Wahida and her family other than to escape Afghanistan and try to rebuild their lives elsewhere. Otherwise they simply would not have survived. This situation led to her brother leaving the village and after many years,  gaining refugee status in New Zealand. Wahida knew nothing of New Zealand, but as her brother studied in Christchurch, plans were under way for him to sponsor the rest of the family to live in New Zealand.
When Wahida arrived in New Zealand she found herself in a strange place with no understanding of the language, the culture or the New Zealand lifestyle. But her first impressions of New Zealand were of a safe, clean and green country with no poor people. Everything was so handy and easy. Buildings in this new country were made of glass. Houses were built with concrete and bricks. Whereas every home in Wahida's village was built with clay or mud. Every morning she woke up, asking herself " where am I?, how did I end up in this country?". For a while Wahida could not believe that she didn't have to wake up early every morning to clean inside and outside the house to make it look nice and clean before the sunset. She could not believe she didn't have to walk long distances, pushing a wheelbarrow full of recycled oil tins and containers to bring water every afternoon, to last them until morning and many more difficult household chores.
After 6 weeks learning about New Zealand at the Mangere Refugee Resettlement Centre, Wahida moved with her family to Christchurch to begin a new life. It was late in 2004 just before the school summer holidays. This was a hard time for Wahida and her family. A new country, no understanding of the new language, homesick, without any friends. Needless to say television was a pleasant distraction, but without any Farsi subtitles.  The most popular programmes Wahida watched were kids shows like Spongebob Squarepants and Dora the Explorer. After all, she felt just like a kid, she needed to learn how to speak English and these programmes helped her to do it quickly.
Life slowly began to become normal for Wahida when the new school year started. She attended Hagley Community College with her siblings, allowing her to slowly emerge from her comfort zone. Wahida soon realised that being independent is a normal thing in New Zealand. She started to think of her future and to come alive. She thought no matter if you're a man or a woman in New Zealand, dreams can come true. Wahida started making a list of things she would like to do and achieve, things she never would have even contemplated back in Afghanistan.  Things that people in New Zealand may take for granted like, finishing school; going to university; traveling; finding a job; owning a house.
In May of 2005 Wahida attended a CRS School Holiday Programme where she met CRS' Youth Work Team Leader Jo Fasheun. She felt the need to expand her horizons in order to fulfill her dreams. This led to being part of a youth reference group at CRS working alongside a wide range of young people from migrant and refugee backgrounds, helping improve Wahida's confidence and English language skills. Wahida soon signed up for all the youth activities within CRS, culminating in an award for voluntary service.
At the end of 2006 while still studying at Hagley Community College, Wahida met her husband to be. But as studying was a priority, she was oblivious to the fact her husband to be would soon be asking Wahida's family for her hand in marriage. While the tradition of the groom's family asking the bride's family for permission to marry is commonplace in Muslim communities, it was still a huge and wonderful surprise for Wahida to find herself engaged. Work, study and volunteering continued until Wahida moved to Dunedin to begin a Bachelor of Commerce degree. This sojourn was short lived as Wahida then made the decision to move with her husband to Auckland after he was accepted to study for a Bachelor of Chiropractic.
Wahida took on an office admin position while acclimatising to life in Auckland. The city was very busy and different to what she had experienced in Christchurch and Dunedin, but she was enjoying it and soon started up her studies, graduating in August 2014 with a Bachelor of Business from the Auckland University of Technology.
During her studies Wahida had the opportunity to travel back to Afghanistan for the first time since arriving in New Zealand. This trip was to meet her in-laws for the first time and visit her home village. Things had most certainly changed and everything seemed different. The climate, the food, her friends, people's behaviour.  Wahida was also fortunate to travel to other countries like Iran, India, Brunei and Dubai. With traveling, Wahida came to really appreciate the New Zealand lifestyle. This trip was a grim reminder of how difficult life can be for some people, and the need to appreciate the good things we have. Things slowly started to feel more "normal" after a period of time, but still there was sorrow in Wahida's heart for those she saw who were suffering from a lack of support systems available in Afghanistan.
Once Wahida and her husband graduated they moved back to Christchurch in 2015. Wahida began volunteering with CRS again, and by January 2016 after all her hard work over the years, she was invited to join the CRS Board. This role helped her to further improve her professional skills, self-motivation and opened her mind. It also helped her to gain more knowledge and understanding of how things worked behind the scenes. While volunteering for the CRS Youth Reference Group, she enjoyed the programmes offered, but didn't have any idea that all these free activities and programmes involved so much hard work.
Wahida now works as an Administration Assistant at a Hospital and has built her dream house with her husband in Darfield. Obviously there were many tears along the way, but she was determined to tick things off her wish list. She says with hard work and dedication, anything is possible. Wahida has a passionate desire to help as many people as she can in her former home of Afghanistan, and continues as a CRS Board member to support Christchurch Resettlement Services wherever she can.