One profession, many roles
Alastair White has been on the staff of CRS since 2009, in a number of capacities. In mid-2019, he took up a new role through the Integrated Safety Response team, working with male perpetrators of family violence.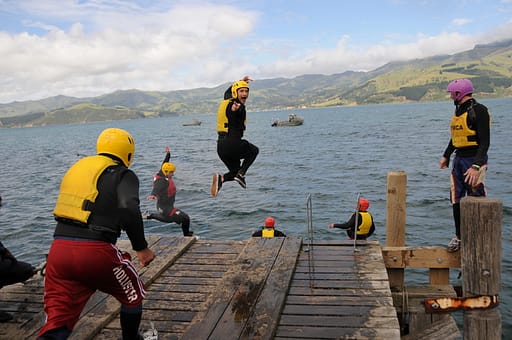 "I think being a Social Worker was always just in me. Mum and Dad always said, 'Oh, you'll be a Social Worker when you grow up.'"
One of Alastair's first jobs was doing outdoors instruction, during which he worked with many young clients from disadvantaged backgrounds. He loved hanging out and speaking with these clients about their stories, which reignited his interest in Social Work as a profession. He followed through with this passion, moving to Australia for four years where he worked with homeless teenagers. He then moved to the United Kingdom and continued his street outreach work, mainly working with youth involved in intravenous street drugs. During the five years he worked in Birmingham and Glasgow, the numbers of asylum seekers and immigrants on the streets, including young families, increased hugely. His contact with these clients made him think more about working with these populations and issues.
Alastair returned to New Zealand and in 2009 and started doing Youth Community Development at CRS. In this role he worked with youth from refugee and migrant backgrounds. Alastair organised camps and sports activities, noting that many refugee-background youths were very keen on sports but had been unable to use sport as a means of integrating into the Kiwi culture. Alastair also worked with jobseeking youth, for example helping them to write CVs and learning to promote themselves for the job market.
"It was real 'coal-face emergency' work to start with…"
Following the 2010-11 Canterbury earthquakes, Alastair was seconded into an Earthquake Coordinator role at CRS. Initially, this was emergency crisis work – ensuring people had essentials such as housing and blankets – but over time the role evolved to helping people navigate the complexities of insurance claims and EQC. Alastair worked mainly with refugee- and migrant-background people, for whom the complex, scant and sometimes contradictory information was particularly hard to understand (not least because it was often only available in English).
This work with CRS was winding up when the Kaikōura earthquake occurred in November 2016, so Alastair spent 1.5 years providing support with Wellbeing North Canterbury through the Hurunui Council.
"The community has been so amazing: people's willingness to keep their dignity, to forgive, to not be bitter at Christchurch or New Zealand. The community has stuck together, supported each other and looked out for vulnerable people."
In 2019, Alastair had planned to have a year off and be a stay-at-home dad to his two kids. Following the events of 15 March, however, Alastair again started working at CRS. This time, his role was to provide support to male victims of the Mosque attacks. Of the work he said, "I spent the first couple of months just not knowing what to say to people. I almost forgot how to be a Social Worker, it was all so overwhelming."
After six months, a male Muslim staff member was employed by CRS to continue this work, and Alastair began working with male perpetrators of family violence through the Integrated Safety Response programme.
---
Photos from CRS Youth Camps, 2008